Taiwan Mobile has been ranked among the top 5% in "Corporate Governance Evaluation" for 4 consecutive years
May 29,2018
---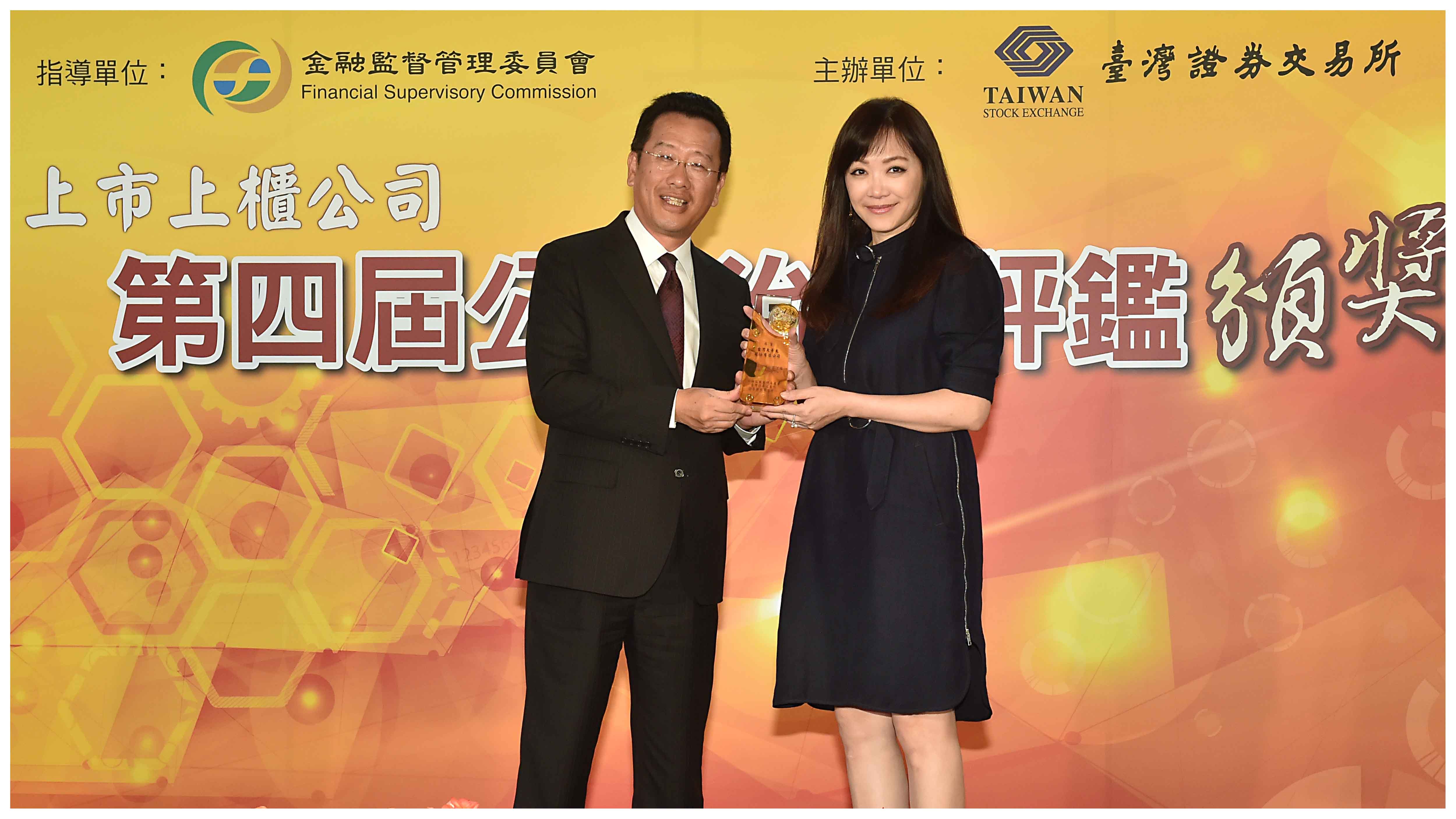 The ceremony of the 4th "Corporate Governance Evaluation" awards was held today (May 29, 2018) in Taipei. As one of the top performing companies, Taiwan Mobile has been ranked among the top 5% of listed companies in "Corporate Governance Evaluation" conducted by Taiwan Stock Exchange (TWSE) and Taipei Exchange (TPEx) for 4 consecutive years.
The structure for the "Corporate Governance Evaluation" indicators is mainly based on the six principles of corporate governance released by the Organization for Economic Co-operation and Development (OECD). The structure references and adjusts five dimensions to these principles: "Protecting Shareholder Rights and Interests", "Treating Shareholders Equitably", "Enhancing Board Composition and Operation", "Increasing Information Transparency", and "Putting Corporate Social Responsibility into Practice". In the 4th "Corporate Governance Evaluation" this year, a total of 1,536 companies were evaluated including 861 TWSE listed companies and 675 TPEx listed companies. 43 TWSE listed companies and 34 TPEx listed companies were honored as the Top 5% companies.
Mr. James Jeng, the President of Taiwan Mobile, stated that Taiwan mobile actively put corporate governance into practices, TWM has outperformed the peers and delivered highest EPS(earning per shares) in the telecom industry for six consecutive years during 2012~2017, and ranked among 5% in "Corporate Governance Evaluation" for 4 consecutive years. The Company strives to meet world-class standards with its central philosophy of "Think Sustainable, Act Responsible" by leveraging off its core competencies and resources to achieve the goals of CSR which enhance corporate governance, environmental sustainability and social collaboration to create the best value for the public. As a model in corporate sustainability, TWM is the first company in Taiwan to comply with the 17 targets of the UN Sustainable Development Goals. In 2017, it has been a constituent of the Dow Jones Sustainability World Index (DJSI World), ranking second in the global telecoms industry. With the anticipated arrival of the IoT and 5G era, TWM has repositioned as a new generation of Internet Company by diversifying in "T.I.M.E.", the four major industries consisting of Telecom, Internet, Media & Entertainment, and E-Commerce. It has also made the "6C" core values: Coverage, Convergence, Content, Channel, Cloud and CSR to enhance its competitiveness as the leader in sustainable digital convergence.
---