Election of Directors
The election of directors is pursuant to the candidate nomination system which is regulated in Article 192-1 of Company Act and the Company's Articles of Incorporation. The shareholders shall elect the directors from among the nominees listed on the roster of director candidates.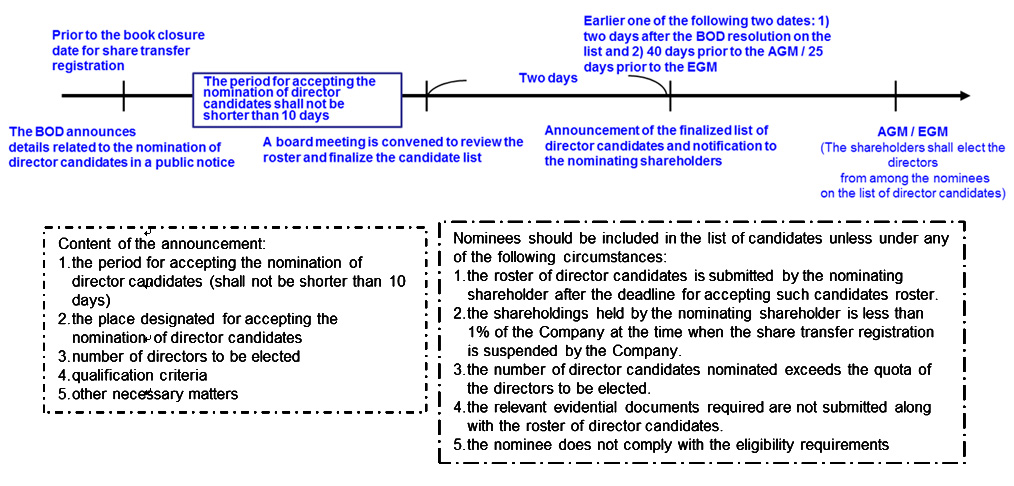 Independent Directors
Independent directors, no less than three1 in number and no less than one-fifth of the total number of directors, should comply with the Securities Exchange Act regarding their independence criteria. The Company's four independent directors, who are all professionals from various industries, more than fulfill the current regulation required for public companies.
Note 1: The audit committee, composed entirely of independent directors, shall not have seats fewer than three.
According to relevant regulations set by the Securities and Futures Bureau of the Financial Supervisory Commission, the professional qualifications and independence status of the Company's Board members are listed in the table below.
Name
Over five years of experience in business, finance, legal and/or other areas related to the Company's business
Independence criteria (Notes)
No. of public companies in which he or she also serves as an independent director
1
2
3
4
5
6
7
8
9
10
Daniel M. Tsai

v

v

v

v

v

0

Richard M. Tsai

v

v

v

v

v

0

San-Cheng Chang

v

v

v

v

v

v

v

v

v

v

0

James Jeng

v

v

v

v

v

v

v

0

Howard Lin

v

v

v

v

v

v

v

v

0

Jack J.T. Huang

v

v

v

v

v

v

v

v

v

v

v

3

Tsung-Ming Chung

v

v

v

v

v

v

v

v

v

v

v

1

Hsueh-Jen Sung

v

v

v

v

v

v

v

v

v

v

v

0

Guu-Chang Yang

v

v

v

v

v

v

v

v

v

v

v

0
"V" denotes meeting the conditions specified above
| | |
| --- | --- |
| | Not an employee of the Company or its affiliated companies |
| | Not a director or supervisor of the Company's affiliated companies (unless the person is an independent director of the Company, the Company's parent company or any subsidiary of the Company as established in accordance with the regulations of the country) |
| | Not a shareholder whose total holdings, including those of his/her spouse and minor children, or shares held under others' names reach or exceed 1 percent of the total outstanding shares of the Company or rank among the top 10 individual shareholders |
| | Not a spouse or relative within second degree by affinity, or within three degrees by consanguinity to any person specified in criteria 1 to 3 |
| | Neither a director, supervisor, or employee of an entity that directly and/or indirectly holds more than 5% of the Company's shares, nor one of the Company's top five shareholders |
| | Not a director, supervisor, manager, or shareholder owning more than 5% of the outstanding shares of any company that has financial or business relations with the Company |
| | Not an owner, partner, director, supervisor, manager, or spouse of any of the aforementioned, of any sole proprietorship, partnership, company, or institution that provides commercial, legal, financial or accounting services or consultations to the Company or its affiliates. However, members of the Compensation Committee are not covered by this restriction per Article 7 of the Regulations Governing the Appointment and Exercise of Powers by the Remuneration Committee of a Company Whose Stock is Listed on the Stock Exchange or Traded Over the Counter |
| | Not a spouse or relative within second degree by affinity to other directors |
| | Not in contravention of Article 30 of the Company Act |
| | Not an institutional shareholder or its representative pursuant to Article 27 of the Company Act |