Customer Satisfaction
TWM continue to employ different market survey tools (such as phone interviews, Internet surveys, and focus group discussions) to track, review, and improve customer satisfaction levels. Different types of survey projects are carefully planned every year. The respondents range from the whole market to specific subscribers. Customer demands and opinions are analyzed on a regular basis and improvement plans or business strategies are formulated based on the survey results with the goal of an allout improvement of subscriber satisfaction levels. Overall consumer satisfaction surveys are administered twice a year. This highlights the great importance attached to consumer opinions and satisfaction levels.
In this new era of 4G, telecommunication products and services are even more diverse and complex. TWM continues to enhance customer service experiences and insists on the provision of professional, efficient, cordial, considerate high quality services to satisfy customers. In addition to a 24-hour toll-free customer service hotline (188 for mobile phones and 0809-000852 for home phones), subscribers are also able to submit complaints through the website, the customer service mailbox, or in stores. Upon receipt of complaints, dedicated personnel is in charge of tracking and proper handling based on complaint categories.
In January 2013, the company adopted an external certification system and was awarded the Qualicert International Service Quality Certification and the ISO 10002:2004 International Standard Certification (Quality Management – Customer Satisfaction – Guidelines for Handling of Complaints in Organizations) by SGS (Societe Generale Surveillance) for its efforts to establish a convenient and transparent complaint mechanism. TWM embraces the core values of "Integrity, Innovation, passion, and Simplification" in the realization of its commitment to provide all-around services. We carefully listens to customer demands and actively responds to customer issues. Customer rights and interests are safeguarded in a reasonable manner and special demands are respected. Problems are solved in a fully satisfactory manner to create optimized mobile lifestyle experiences for our customers.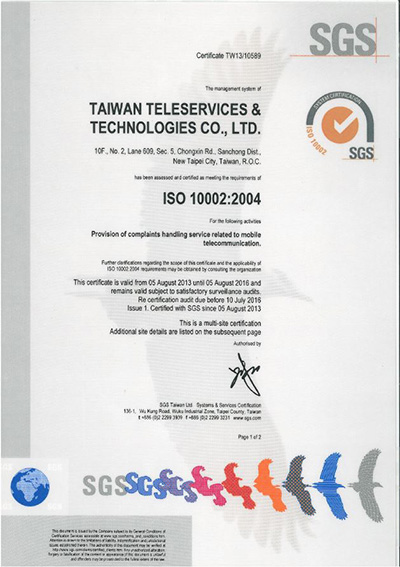 ISO10002:2004 certification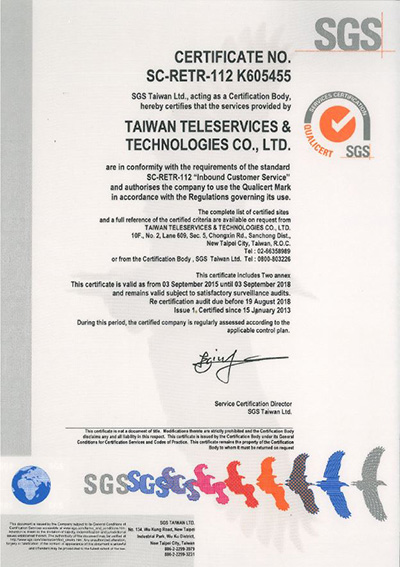 Qualicert certification