Supply Chain Governance
Sustainable Governance Structure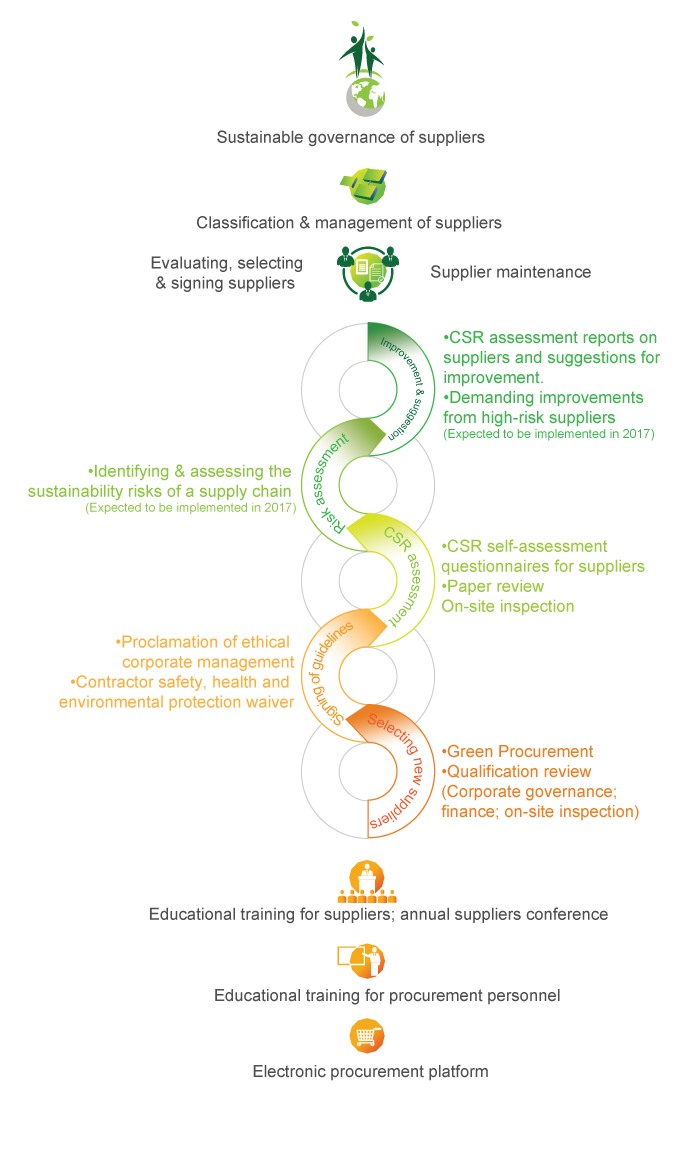 Taiwan Mobile has always regarded suppliers as its most important partners. Together with our suppliers, we wish to grow, create value, and take on the responsibilities to employees/shareholders and our corporate social responsibility to give back to society.
Supply chain management strategy
TWM's supply chain management targets are"high quality、stable service、risk control、green procurement and promote sustainability." In order to achieve the targets, TWM developed following strategies:
Implementation of quality control mechanism: Through organizing the technical committee and having the technical evaluation meeting, TWM can make sure to that we only do business with qualified suppliers. Also, we continuously monitor suppliers' performances to give supplier instant feedback and to ask for improvements.
On-Time Delivery: In our bidding documents, we set up delivery schedule. Suppliers should commit and stick to the delivery schedule. Suppliers may be disqualified if not deliver the product or services on time.
Monitoring for supply chain integrity, sustainability, and risk management: Suppliers should sign 『Business Integrity Statement』every year. Suppliers cannot violate relevant laws and regulations, such as fair competition, environmental regulations, copyright, Labor Standard Law etc.. In addition, TWM uses different approaches, including supplier self-assessment questionnaire, regular documentary review, on-site audit, to ensure the sustainability of our supply chain management and to control relative risks. In order to build sustainable supply chain in a holistic and solid manner, we also developed a process and implemented risk analysis. Through analyzing the likelihood and impact of potential risks to find out which suppliers are considered to be of high risk and give differentiated requirement for corrective action.

Green procurement

TWM has developed green procurement policies, categories and targets in order to decreases environmental impact.

Green procurement: TWM has developed green procurement policies, categories and targets in order to decreases environmental impact.
Increasing transparency and capacity building for suppliers: By disclosing the progress of supply chain management, TWM increases its transparency and shows responsibility and accountability for managing its supply chain. Furthermore, TWM holds regular training sessions for our employee and suppliers to ensure they are fully aware and familiar with our sustainable supply chain management strategy and approaches. Finally, TWM has joined the GeSI and will hold a conference at the end of 2017. We expect by introducing international resources will help us reinforce the training for suppliers and increase their awareness of sustainability.
In the spirit mentioned above, Taiwan Mobile will continue to improve its supply chain management, and ensure the sustainable management of suppliers through the figure below.
Furthermore, we request all suppliers to sign a declaration of operation with integrity, to abide by corporate responsibility principles, so that the suppliers have a guideline for relevant business conducts. Related guidelines such as supplier code of conduct were published for suppliers to follow:
TWM Supplier Code of Conduct : The code of conduct covers the following areas: environmental standards for the suppliers' processes, products or services, child labor, other fundamental human rights (e.g. labor, freedom of association, ILO conventions), occupational health and safety, business ethics (e.g. corruption, anti-competitive practices), sustainable procurement policy for suppliers, and Information transparency.
Supply Chain Management Milestones

Achievements and Targets

Achievements in 2016
Green Procurement

The total procured amount grew by 56.97%.
Increase

A total of 250 copies of the Supplier CSR self-assessment questionnaire were collected, which was an increase by 19%.
We completed on-site inspections of 20 tier-one key suppliers with respect to corporate sustainability.
We organized a supplier exchange seminar and two supplier training sessions to promote sustainability governance.
Targets in supply chain management
Complete documentary review for 250 suppliers in 2017.
Manage 10% of suppliers (purchasing amount) through E-tasc in 2017.
Complete on-site audit for all tier 1 critical suppliers in 2020.
TWM Supplier Code of Conduct