Supplier Sustainability Management
Link between 2018 Performance Objectives and Management Strategies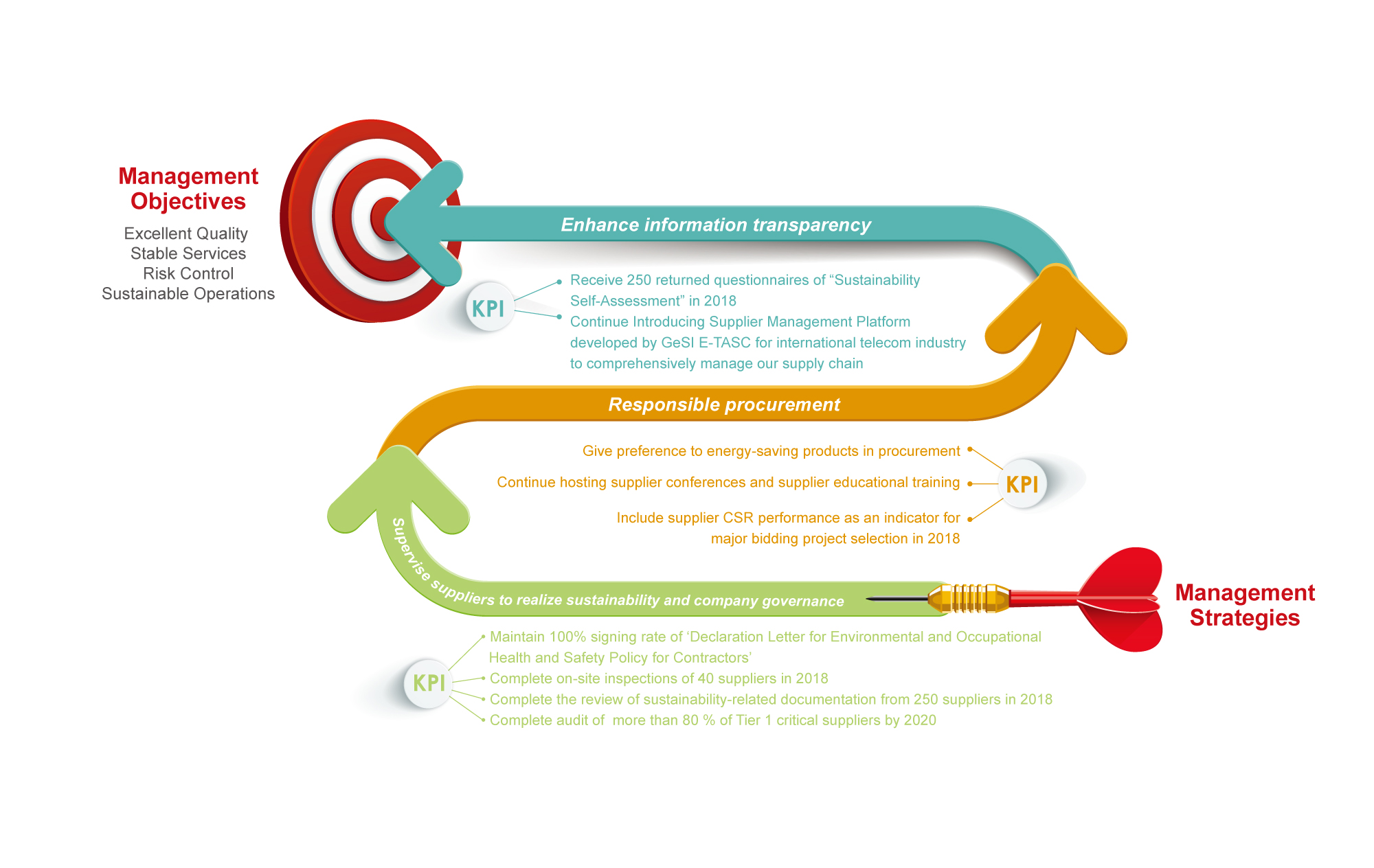 Supplier Classification
TWM classifies our suppliers in 6 categories: Consumer Electronics, Telecommunication Equipment, Engineering, Information Service and Equipment, Marketing, Consulting Service & Administration, Installation and repairs. The spend analysis of the 6 categories is as follow: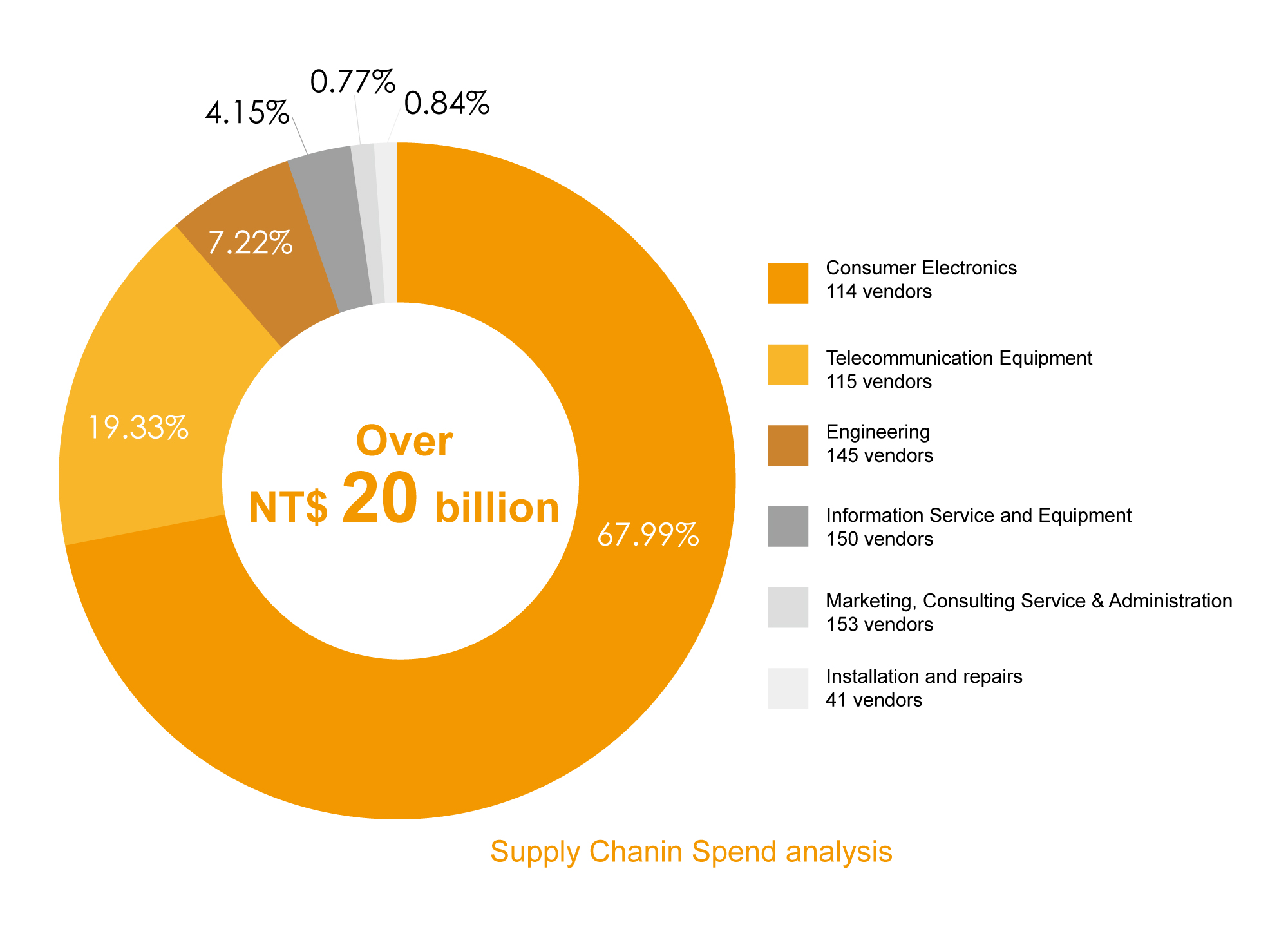 Critical Supplier Identification
Critical tier 1 supplier identification:

We define and identify critical tier 1 supplier by the following criterion:

TWM screens the suppliers by purchase amount within each category to identify high volume suppliers.
Critical component: The providers of the main information software system, hardware, and materials bonded by equipment and non-substitutable suppliers, which are the exclusive agents designated by the original equipment manufacturers, technology leaders and exclusive suppliers in the market. There are 16 suppliers meets these criterion and identified as critical suppliers.
A total of 102 critical tier 1 suppliers are identified in 2017.
Critical non-tier 1 supplier identification:

Critical non-tier 1 suppliers are defined as the non-substitutable indirect providers of the main information software system, hardware, and professional services necessary to TWM daily operation. In the total of 50 key non-tier 1 suppliers, 18 of them are identified as critical to TWM.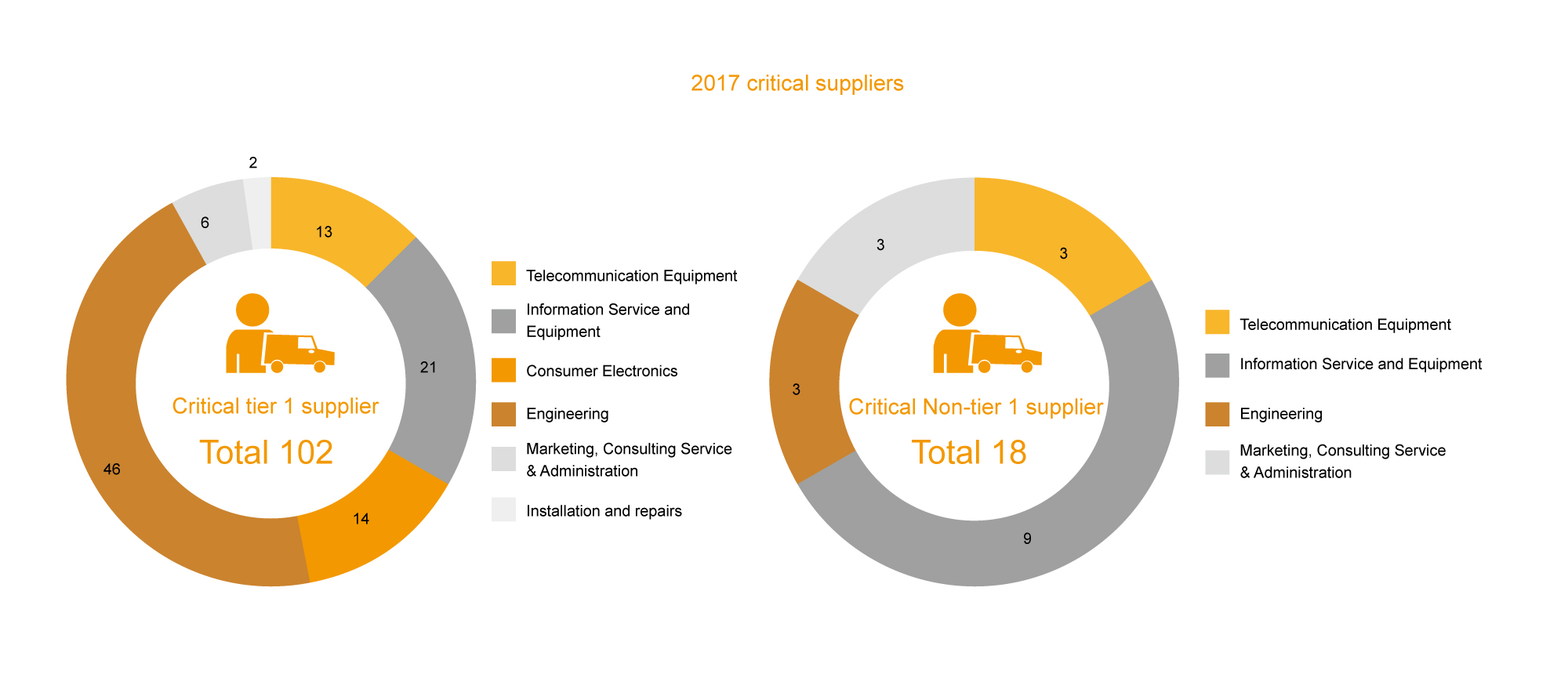 Assessment for New and Existing Suppliers
New Supplier Screening

To assess new suppliers' ESG performance, TWM has included sustainability performance as a selection criterion for new suppliers since 2017 and requires new suppliers to fill out the 'Self-Evaluation form in ESG Performance for new suppliers'. All new suppliers have participated in the screening of sustainability performance, since this new regulation has been launched in October, accounting for 17% of all new suppliers in 2017.
Assessment of Existing Suppliers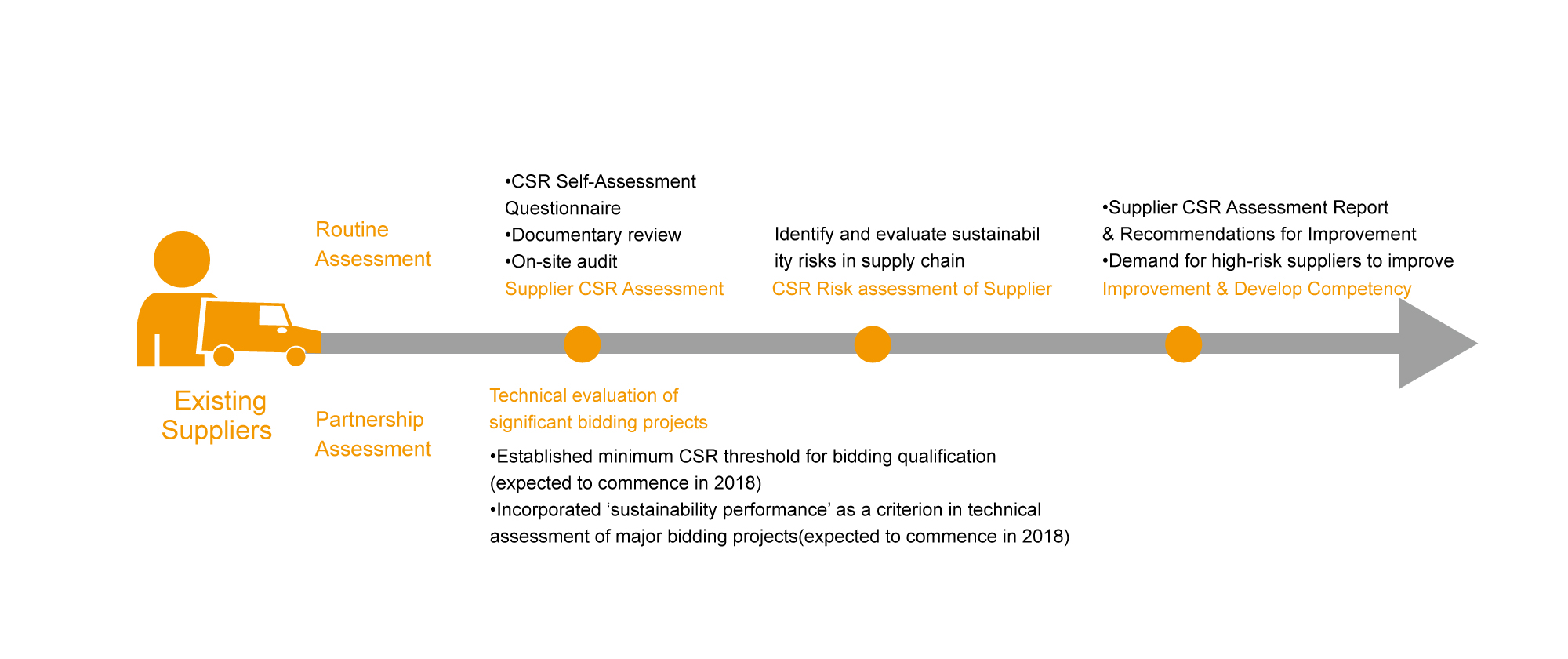 For existing suppliers, TWM's partnership assessment has regulated that for all projects above NT$5 million that require supplier's evaluation, it is mandatory necessary to submit their CSR self-assessment questionnaire in order to join the bidding process.
There are three parts to TWM's routine sustainability assessment: CSR Self-Assessment questionnaire, documentary review, and on-site audit.
---
Supply Chain CSR Self-Assessment Questionnaire
The CSR Self-Assessment Questionnaire includes 15 categories spread in three aspects: environment, social, and governance. In 2017, the distribution of questionnaires focuses on major suppliers, and a total of 268 copies were returned.
To fully understand the ESG practices in the self-assessment from suppliers, TWM also uses the responses in these questionnaires and reference materials to conduct document review over 268 suppliers who submitted responses.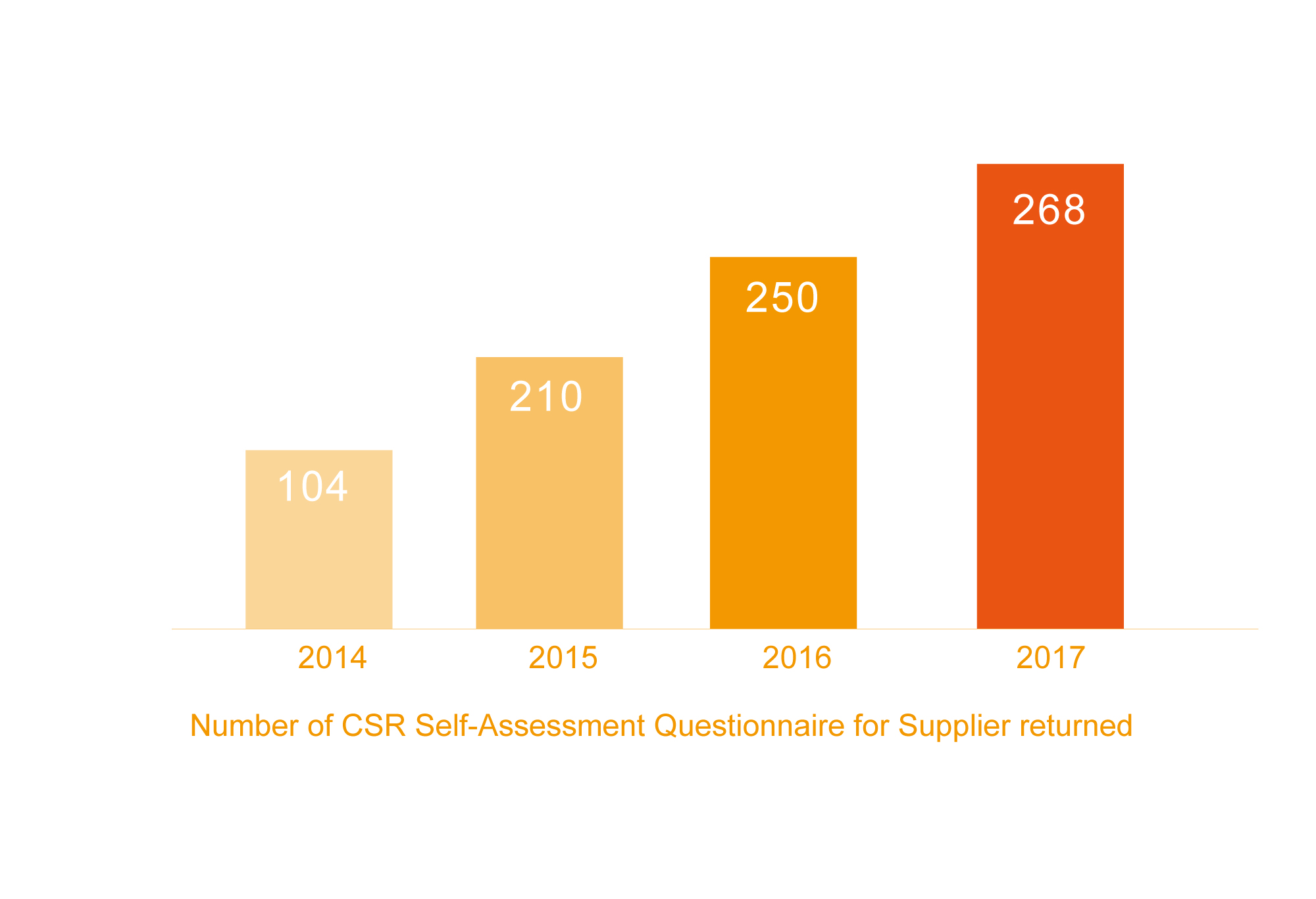 Supply Chain On-site Audit
TWM arranges on-site audits for critical suppliers to truly understand their status of sustainable management. We interview the suppliers and propose recommendations for improvement.
In 2017, TWM expanded the scope of on-site inspections and visited 40 partners, resulting in a 200% increase compared with 2016. So far we have completed on-site audit for 35.29% of critical tier-one supplies. We plan to visit 80% of tier-one critical suppliers by 2020, and expect to fully understand, evaluate, and learn from each other through closer interactions with suppliers.
---
Supplier Sustainability Risk Analysis and Evaluation
Since 2017, TWM has undertaken sustainability risk assessment for tier-1 suppliers based on DJSI requirements and relevant sustainable supply chain management guidelines, to further assist and enhance the sustainable management capability of its suppliers.
The Risk Assessment Process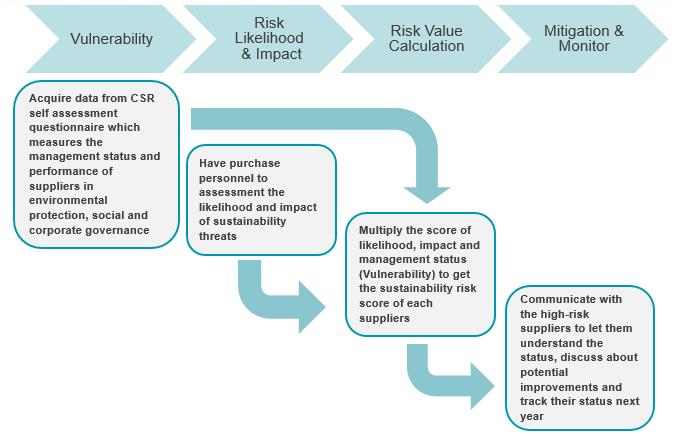 Risk Assessment Results in 2017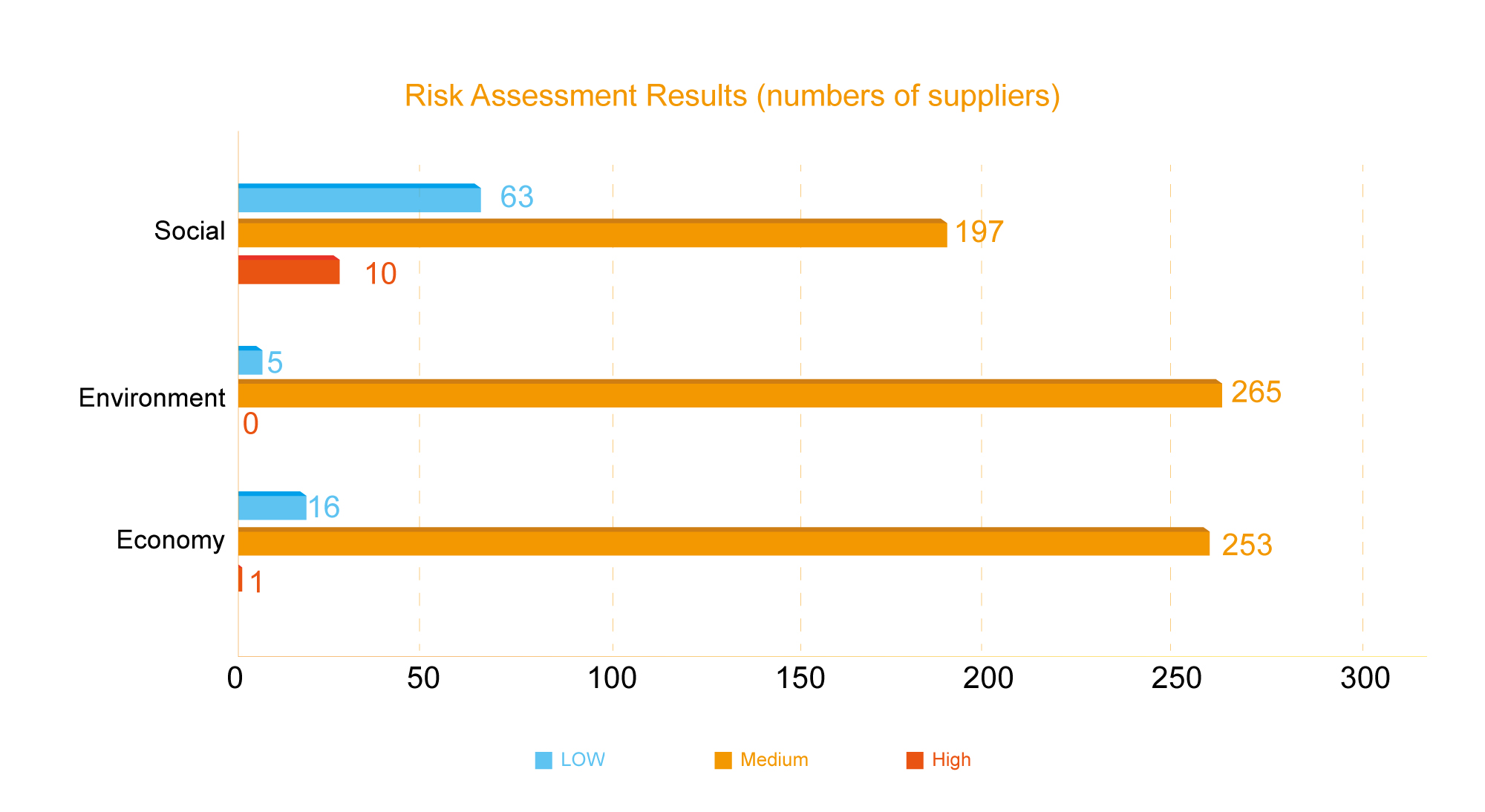 We identified 11 high-risk suppliers among 718 suppliers in 2017, the identified risks are mainly in the aspect of occupational hazards. Due to lack of management approach on these particular issues, high-risk suppliers tends to acquire a high score on the "vulnerability" and therefore, been identified with high risk level.
Corrective action plans for suppliers
TWM has started asking all suppliers with high sustainability risks to provide corrective action plans according their assessment result. So far 90.9% of current suppliers with high sustainability risk have set up their corrective action plans including revising their management approach for occupational risk identification, developing sustainability performance assessment methods and developing human right management policies policy for their own suppliers. Among those who have set up correction action plans, 100% of them have accepted the plan and are improving their ESG performance.
Plans – Incorporating Supplier Sustainability Performance in Evaluation for Major Bidding Projects
To further implement sustainable supply chain management in practice, TWM plans to request suppliers to disclose their CSR performance in 2018. Before suppliers can engage in the bidding for major projects, suppliers needs to complete CSR self-assessment questionnaire of that year, and its sustainability performance will serve as a key criterion in technical assessment for major bidding projects.