A Safe and Healthy Working Environment
Health and Well-being policy

We have a health and well-being policy that considers the employees' health and happiness as a priority and regard our employees as partners in the company's sustainable growth. We provide holistic and diversified health services. Through "health care, psychological care, security environment, consideration for the family", the staff is able to achieve physical and mental health, work and life balance.
The TWM Management team with regards to issues impacting strategy and operational decisions will use this policy as the core.
Health care

Through pluralistic health care programs, we provide early preventive health care measures to help improve the health of our employees.
Sound health management services
We have provided healthcare that has exceeded the standards required by law: We provide the employees with health examination service in every two years, which is more frequent than required by law. For employees 45 years old and above, we have especially added regular checkups for brain and cardiovascular diseases and osteoporosis in addition to a wide variety of similarly specific checkups that the employees can choose from.
Complete health examination database: We inputted every employee's health checkup results over the years into an exclusive health management system. Then dedicated full-time occupational health personnel will conduct post-exam follow-up reviews based on health classification management standards including drawing blood, female pelvic cavity and breast ultrasound, abdominal ultrasound, and vision and intraocular pressure anomaly reexamination. With employees that exhibit severe anomalies, we provide one-on-one follow-up care or arrange medical advice and treatment referral.
As a result of our complete health management services, we help our employees discover health problems at an early stage for immediate medical treatment, and then implement a healthy lifestyle and promote personal health. In 2016, the percentage of employees participating in the annual employee health exam program was 100%, with satisfaction rates more than 90% over the years. This indicates that despite working tirelessly, our employees have not forgotten to pay attention to their own health as a result of the Company's initiative to create a healthy and safety workplace.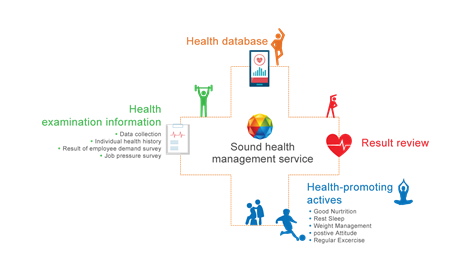 Wide selection of programs promoting health and well-being

Based on our analysis of the results of each health exam and employees opinion surveys, we plan health promotion activities that meet the needs of our employees. We have organized activities in various themes. The 2016 health promotion activities include:
Provide all-round cancer prevention and treatment including the screening of oral cancer, nasopharyngeal carcinoma, liver cancer, colorectal cancer, breast cancer, ovarian cancer and prostate cancer, with the screening rate of 100%. We have helped the employees with early screening for early medical treatment in order to reduce the mortality rate.
We have conducted the "care for vocal cords & hearing" course specifically to protect and care for the vocal cords and hearing of our customer service staff. Specifically for employees who work on the night shift, we also have the "liver protection" initiative to monitor changes in their liver function.
We have offered "stress relief and a good night's sleep" workshop.
We have held bone density screening tests and courses on spine protection and pressure relief by aromatherapy in order to help employees prevent musculoskeletal injuries. We offer massage services to help our employees relieve stress free of charge. The number of employee massage sessions has totaled 20,564 with a satisfaction rate of 99%. To enhance awareness of a healthy balanced nutrition to prevent chronic diseases, a variety of diet nutrition health educational content is provided through email.
Employees Health Risk Management
Measures to prevent the occurrence of brain and cardiovascular diseases at workplace: By analyzing the annual health exam results together with data regarding working hours, we have implemented flexible work hours and the physician evaluation. If a physician's evaluation determines that an employee is at a high risk level, individual health guidance will be provided and health-related adjustments will be made to one's work schedule or work environment. In total, there were 455 employees who were screened. All of them were deemed as a low risk of the brain and cardiovascular diseases. Nonetheless, 184 were still provided with health guidance (40.4%), and 29 provided with medical guidance (6.4%).
Work Hazard Assessment and Management: To prevent repetitive movements leading to musculoskeletal disease , we conducted a questionnaire survey every two years during the health exam on which body parts do employees experience the most discomfort and the degree of such discomfort while at work so as to identify high-risk activities and then devise preventive measures and improved methods.
Maternal health protection and management: Through the introduction of the "Maternal health protection program", we actively screen female employees who are pregnant or within one year from childbirth in order to provide health education in the middle and late stages of pregnancy as well as postnatal breastfeeding information and identify and assess the environmental hazards at the workplace. We also, based on the recommendation of a special occupational physician, have adopted such health protective measures as classification management and on-site improvement to ensure maternal health for the female employees. In 2016, 140 pregnant employees completed the evaluation and no harm to the mother, the fetus or the infant's health was found, as determined by the physician.
Psychological care

Timely and appropriate counseling for individual employees are provided to address individual psychological issues. It is our hope that this service will improve our employees' ability to handle stress and stay healthy as well as to help them achieve physical and mental balance.
Employed full-time psychologists to offer one-on-one counseling sessions to our employees as well as organized a book club. This program saw the participation of 426 employees with a satisfaction score of 4.8 point (out of 5)
Through the introduction of the employee assistance program (EAP), we provide our employees with comprehensive assistance services for their work, lives and health. Thereby, achieving our goal of keeping our employees happy and healthy.
Security environment

Comply with the Occupational Safety and Health Act and its standard in evaluating risks and adopting a strict management and maintenance of high safety and health standards to prevent occupational injury and establishing a safe work environment.
Establish a dedicated occupational safety and health office in charge of assigning appropriate personnel in charge of occupational safety and health management, carrying out inspections of safety and health standards of the work environment and employees' safety and health training.
Establish the Occupational Safety and Health Committee who regularly conduct meetings every three months and conducts reviews of labor safety and health related guidelines and regulations for the entire company and tracks requested improvements on a regular basis.
To protect all employees from suffering illegal physical or mental infringement leading to physical or psychological illness when executing their tasks, "Preventive Measures against Illegal Infringement in the Process of Execution of Tasks and Operations Guidelines" has been developed.
Automated external defibrillators (AED) have been installed in office areas and a CPR training program is implemented for all employees. Regularly hold fire-fighting trainings and flood prevention drills for employees to reduce risk of fire and natural disaster as well as improve their basic disaster response skills. In response to global warming, energy conservation policies have been implemented to reduce the use of carbon.
For network continuity operations, a network continuity manual that lays out the relevant standard operating procedures has been defined. Employees are also provided with appropriate personal protective equipment. Rules governing contractor safety, health and environmental protection have been issued for network continuity tractors as well. Contractors are supervised to ensure that safety rules are followed during continuity operations.
To provide an exceptional work environment for our employees, we conduct regular inspection of air quality and drinking water quality in our offices to ensure that our employees feel comfortable and healthy.
Taking care of the family

We seek to build a trusted and happy workplace through a series of benefits covering marriage, pregnancy and childbirth. Provide a breastfeeding facility that exceeds the regulatory requirements for postpartum employees to comfortably breastfeed at work.
Illegal Infringement in the Process of Execution of Tasks Appeals:
In the telecommunications industry, the greatest risk of occupational injury is from the maintenance of base stations. To better manage accidents and injuries that occur in the workplace, we have adopted guidelines for handling occupational injuries. We also process, track and investigate occupational injuries to come up with preventive strategies. Occupational injury statistics are reported monthly to the labor inspection agencies as well. Our statistics for the year are as follow:
2016 Occupational Injury Statistics
---
Injury Rate(IR)

0.0265
Occupational Disease Rate (ODR)

0
Lost Day Rate (LDR)

0.1224
Absentee Rate (AR)

2,067