Process & Mechanism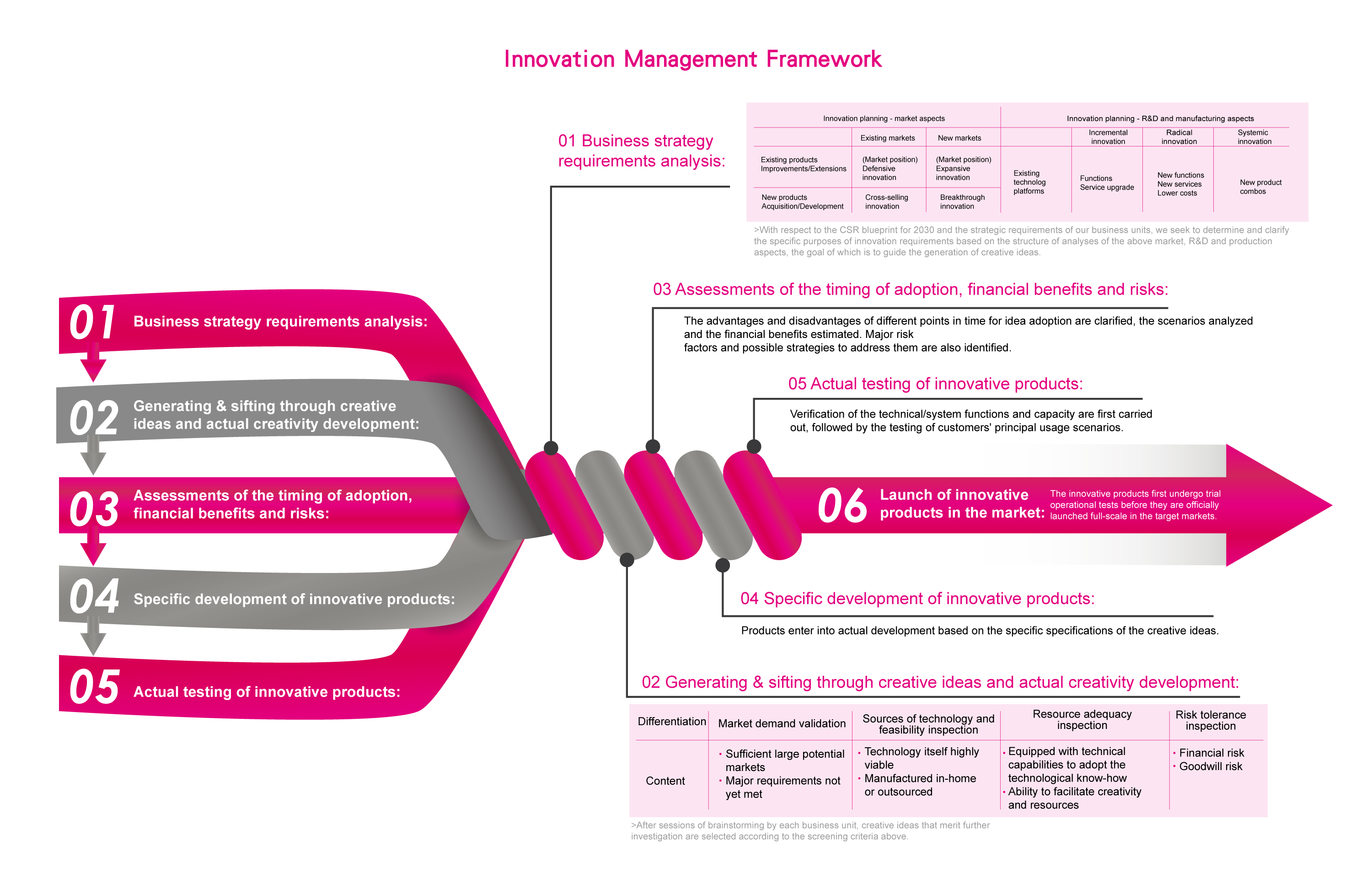 Business strategy requirements analysis
Please Swipe Left or Right View All.
Innovation planning - market aspects
Innovation planning - R&D and manufacturing aspects


Existing markets
New markets


Incremental innovation
Radical innovation
Systemic innovation
Existing products Improvements/Extensions
(Market position) Defensive innovation
(Market position) Expansive innovation
Existing technology platforms
Functions Service upgrade
New functions New services Lower costs
New product combos
New products Acquisition/Development
Cross-selling innovation
Breakthrough innovation
With respect to the CSR blueprint for 2030 and the strategic requirements of our business units, we seek to determine and clarify the specific purposes of innovation requirements based on the structure of analyses of the above market, R&D and production aspects, the goal of which is to guide the generation of creative ideas.
Generating & sifting through creative ideas and actual creativity development
Please Swipe Left or Right View All.
Differentiation
Market demand validation
Sources of technology and feasibility inspection
Resource adequacy inspection
Risk tolerance inspection
Content

Sufficient large potential markets
Major requirements not yet met

Technology itself highly viable
Manufactured in-home or outsourced

Equipped with technical capabilities to adopt the technological know-how
Ability to facilitate creativity and resources

Financial risk
Goodwill risk
After sessions of brainstorming by each business unit, creative ideas that merit further investigation are selected according to the screening criteria above.
Assessments of the timing of adoption, financial benefits and risks

The advantages and disadvantages of different points in time for idea adoption are clarified, the scenarios analyzed and the financial benefits estimated. Major risk factors and possible strategies to address them are also identified.
Specific development of innovative products

Products enter into actual development based on the specific specifications of the creative ideas.
Actual testing of innovative products

Verification of the technical/system functions and capacity are first carried out, followed by the testing of customers' principal usage scenarios.
Launch of innovative products in the market

The innovative products first undergo trial operational tests before they are officially launched full-scale in the target markets.