Material Issues
TWM uses various channels to communicate with stakeholders so as to compile and organize issues of concern based on the principles of sustainability context, materiality, integrity, and stakeholder inclusiveness. Material issues are identified through the following procedures, which are reviewed for their appropriateness and adequacy on a regular basis.
Materiality Assessment Procedure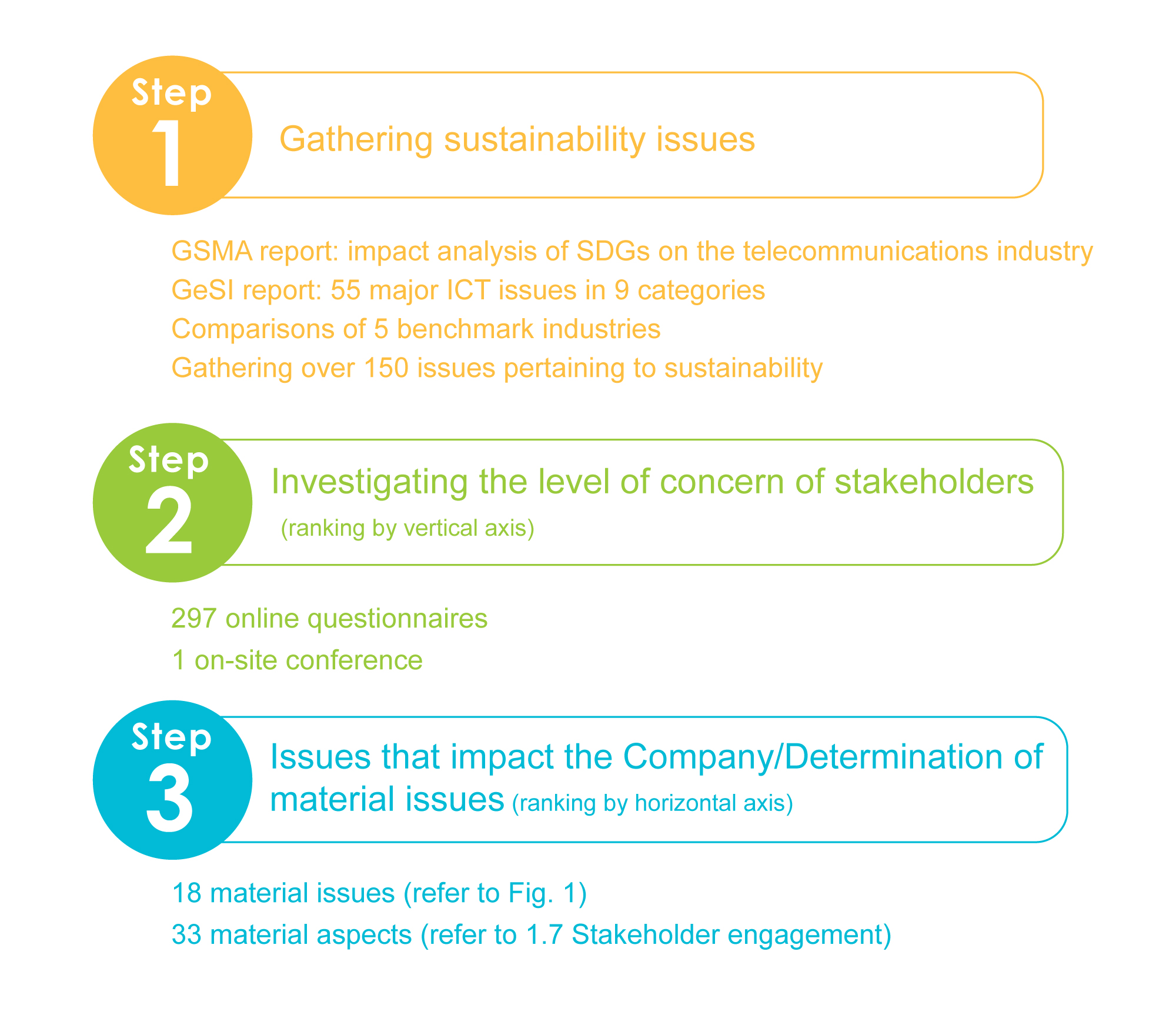 Materiality matrix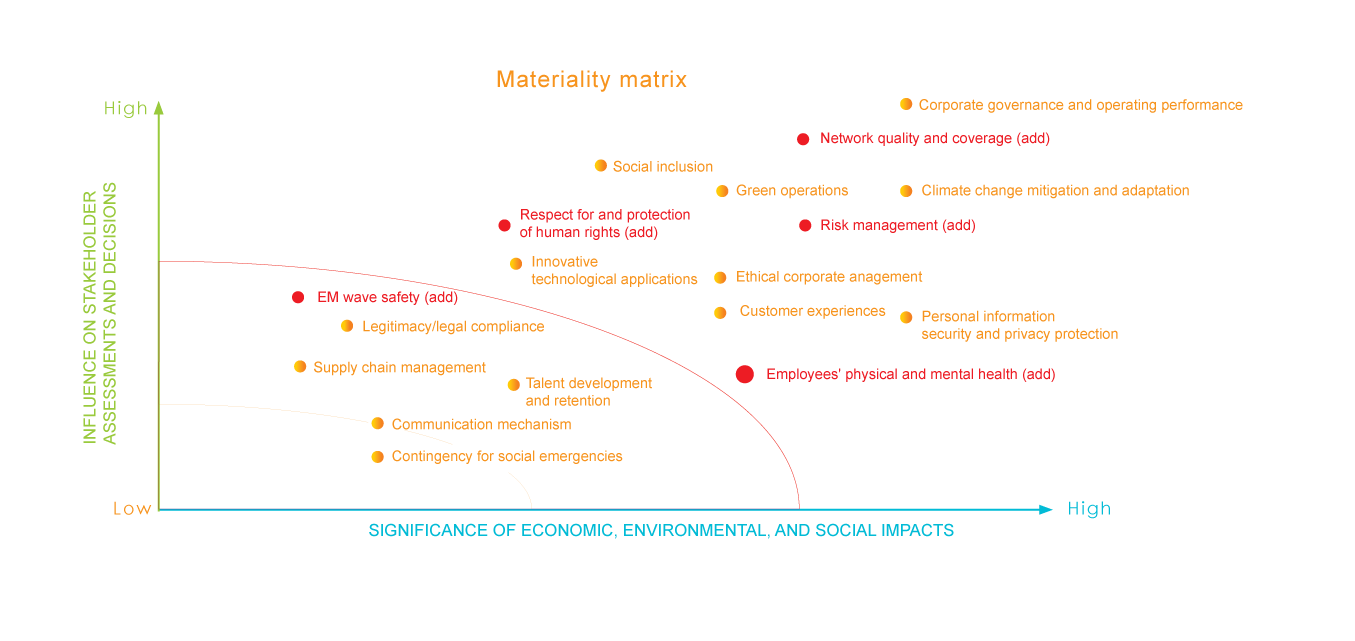 Material issues and strategies
Please Swipe Left or Right View All.
Material Issues
Significant impact on TWM
Relevant cases of implementation
Item
Target
Target year
Y16 Achievement
Climate change mitigation and adaptation

Global warming has caused extreme weather conditions and resulted in increased windstorm and damage to external stations
The culprit of global warming is carbon dioxide emissions, and as citizens of Earth enterprises must go green and reduce consumption of resources

Energy conservation and carbon reduction
Returning to 2016 GHG emission level is 9% below the 2016 level
2025

Achieved greenhouse gas reduction by 7,748ton CO2e.
Set short-term target: Absolute reduction of greenhouse gas by 1% in 2017.

Waste reduction
Annual reduction of 2%
2020
Set long-term target: Reducing general business waste by 2% per year between 2017 and 2020.
Water conservation
Annual reduction of water usage by 1%
2020
Set long-term target: Savings of 1% per year between 2017 and 2020.
Network quality
When a problem occurs in the network, it is necessary to determine the cause of the malfunction at once by focusing on the messages from network element's monitoring device before the problem can be handled properly. The goal is to minimize customers' outage duration and scope.
Integrated Network Management System (NMS)
Incorporating maintenance and repair experience to speed up malfunction identification and removal
2019
Planning the incorporating maintenance and repair experience project.
Personal information and privacy protection

The telecommunication industry possesses a sizable database containing subscribers' personal and privacy information. If the data is leaked illegally, not only will customers suffer but the telecom operator's reputation will be damaged as well
TWM introduced the ISO 27001 Information Security Management System (ISMS) in 2004, which incorporates business processes and continuously improves the security mechanisms

Control of the number of unauthorized transfer of personal data files outside the organization
The total number of unauthorized transfer of personal files for the year was reduced by 10%
2019
Reduced the total number of unauthorized transfer of personal files by 10% in 2016 compared to 2015.
Innovative Technology Applications
TWM focus on T.I.M.E.: Telecom, Internet, Media & Entertainment, and E-Commerce. Since we believes digital convergence is inevitable, we have committed to become its leader. To fulfill our vision, we developed the 6C strategy: Coverage, Convergence, Content, Channel, Cloud and CSR.
Our Innovation Management Committee was formed in 2016, with the Chairman to chair in person. The committee devises the strategy and the management mechanisms for our innovation development. The 5 strategic directions chosen for innovation are: OTT, Mobile Services, Cloud, Big Data and IoT.

Digital media products
Mobile Commerce platform
Cloud IDC project
Customer Experience Management (CEM)
Fleet Manager

Our long term target is to achieve a 48% growth in innovative products/services revenue by 2027.
2027
All innovative products/services revenue 3.49 billion.
Supply Chain Management

Human rights and labor rights management aimed at suppliers, environmental and other sustainability actions being closely linked to TWM's commitment to sustainability
Supply chain management has a significant impact on Taiwan Mobile's brand and business operations

Sustainable supply chain responsibility management project
Results of the project's assessment will be incorporated, and sustainability-related practices will also become part of the requirements for receiving tender documents.
2018
Conducted documentation review for over 250 of our major suppliers and performed on-site inspection for 20 of them.