Emergency Responses
Mobile base stations

Based on users' different systems of cell phones, it should be taken into consideration that the establishment of mobile base stations should include 3G base stations and 4G base stations in order to meet the needs of voice call and data users. In addition, the affected area may not be able to supply electricity. So the mobile car will have a built-in 12KW generator to avoid no power supply on site. As for the need of transmission line (where the base stations can be connected to the core network), if the physical transmission line cannot be provided on site, the mobile car with built-in microwave rod that will raise the microwave rod to transmit microwaves and wirelessly provide the transmission line to the base station, in order to ensure that the mobile base stations can operate normally. Taiwan Mobile has already completed 20 3G/4G mobile base stations. Through these mobile base stations, voice calls and mobile Internet access in the affected areas can be quickly provided.
In the past few years, we have been able to support in several instances where areas affected by natural disasters lost their voice and data communication links with the outside world. We have endeavored to be an active part of various social welfare activities, and we do not shy away from social emergency relief efforts. In the future, we will continue to provide users with excellent network experiences and to safeguard the rights of our subscribers through the central and local governments' information integration, application and sharing.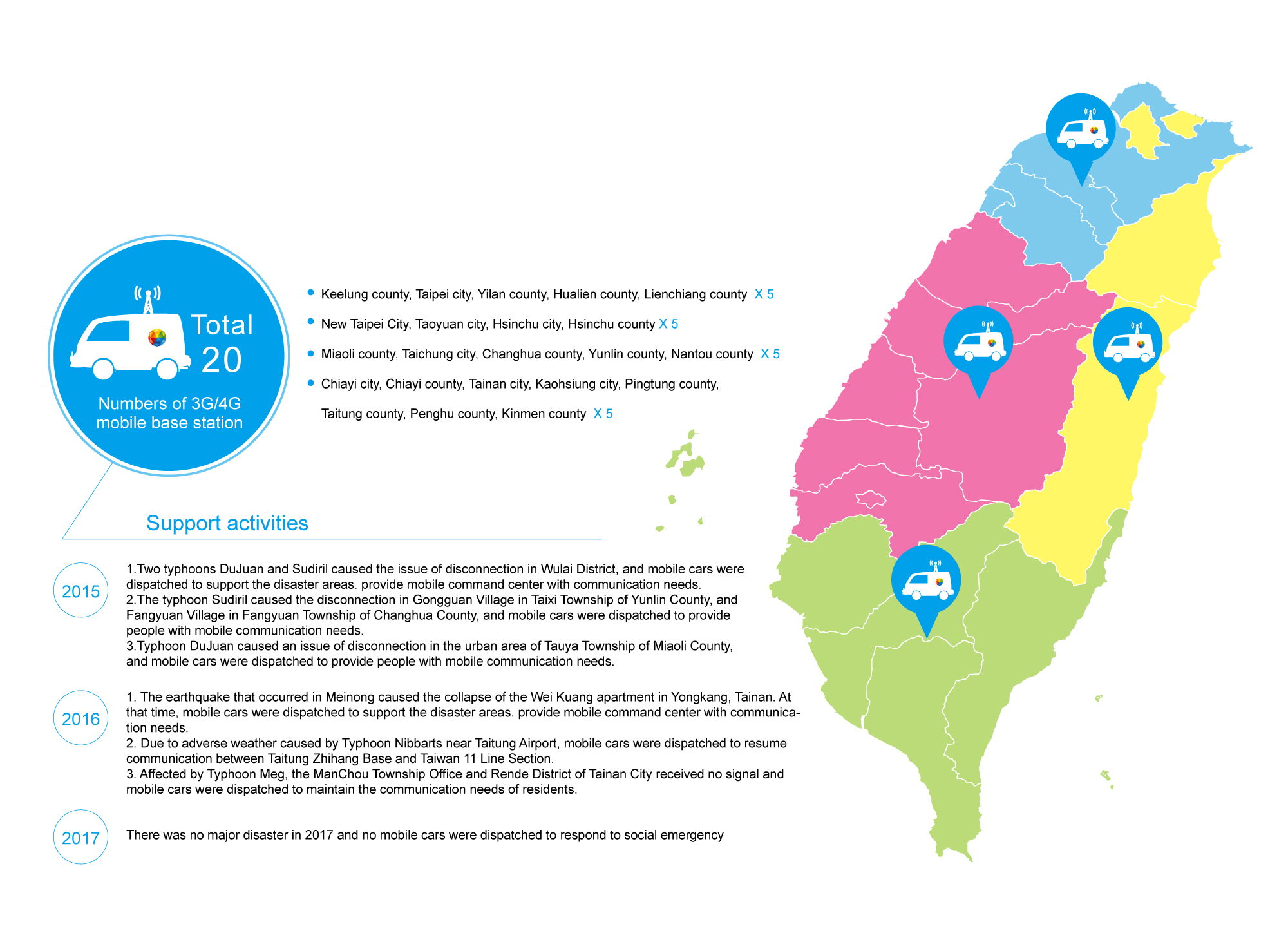 Disaster Prevention SMS

Taiwan is located in the multi-seismic fault zone and in the area typhoons frequent, hence being susceptible to such natural disasters as typhoons, floods, mudslides, slope land collapses, earthquakes, etc. we built the Cell Broadcast Center (CBC) system. The system has allowed the national disaster prevention-related competent authority to send cell broadcast alarm messages to the user terminal devices in specific areas, herewith we assist the government to complete disaster prevention and relief network.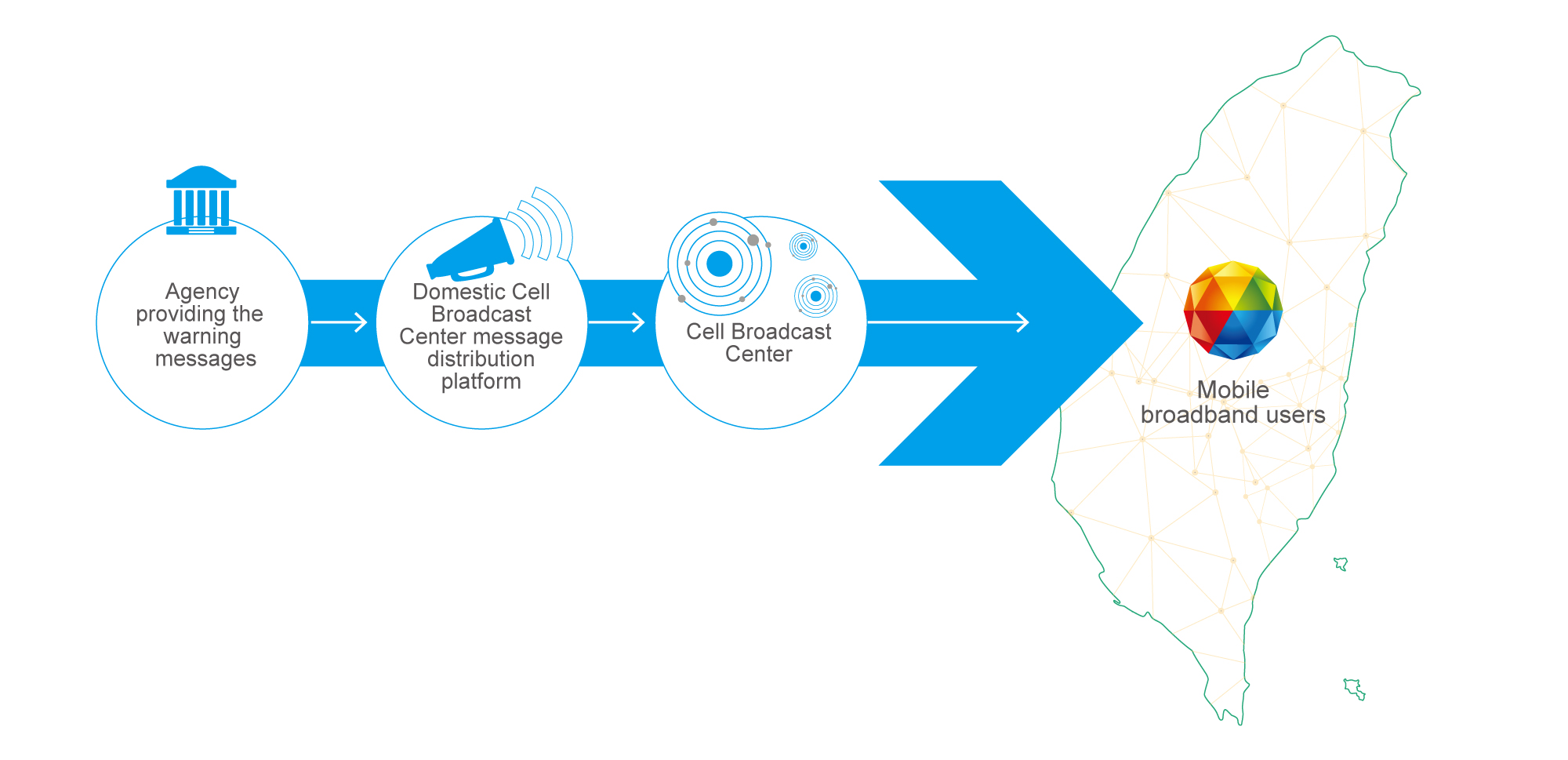 Disaster prevention and drills in response

We continue to verify our protection strategies and resource flexibility through regular drills, and continuously review and correct them based on the performance process to increase the emergency response ability. In October 2017, with the Department of Homeland Security and the NCC, the national second-tier telecommunications critical infrastructure protection drills were again successfully completed to improve the overall emergency response capabilities and reduce the impact of accidents or disasters on customers and companies.
Establishment of Mobile Communication Platform for Disaster Prevention and Disaster Relief

The Executive Yuan subsidized NT$280 million of the "Kofa Fund" local governments to set up an "Mobile Communication Platform for Disaster Prevention and Disaster Relief". We cooperated with NCC and other local governments subsidized with Kofa Fund to jointly construct Diesel generators in base stations. The goal is to provide a backup power supply capacity of more than 72 hours to improve the communication quality in rural areas and the rescue effectiveness in the event of a disaster. As of 2017, we cooperated to complete 23 mobile communication platforms for disaster prevention, and another 27 sites are still under construction.