Career Development and Training
We have spared no efforts in creating a sustainable and diversified environment for learning and development, and to cultivate employees with high commitment, so that we can solidify our foundation for corporate excellence. To be the leader in the digital convergence, we have continued our cultivation in the areas of technology, products, services, tendencies, and mindsets, so that we may achieve a win-win goal in employees' growth and self-realization, as well as corporate performance upgrade.
We develop corresponding training programs and development paths of management and professional in accordance with the trends of industries and enterprise development strategies.
At the end of every year, we conduct training needs survey by collecting the information of industry tendency, arranging interviews with top executives, assessing the competency gap and the employees' questionnaires to ensure that the annual training plan can meet the business strategies, work requirements and employees' development.
Supervisors provide customized coach and training to their subordinates in accordance with division gaols, subordinates' annual objectives and career development plans, and feedback obtained from multidimensional system.
We endeavor to shape the learning organization through facilitating knowledge sharing and leveraging internal know-how.
For all employees from new hires to top executives, we provide complete and diversified training categories to satisfy employee needs in different career stages.
Please see the following figure for 2017 training results. The rate for employee's attendance to training courses was 100%.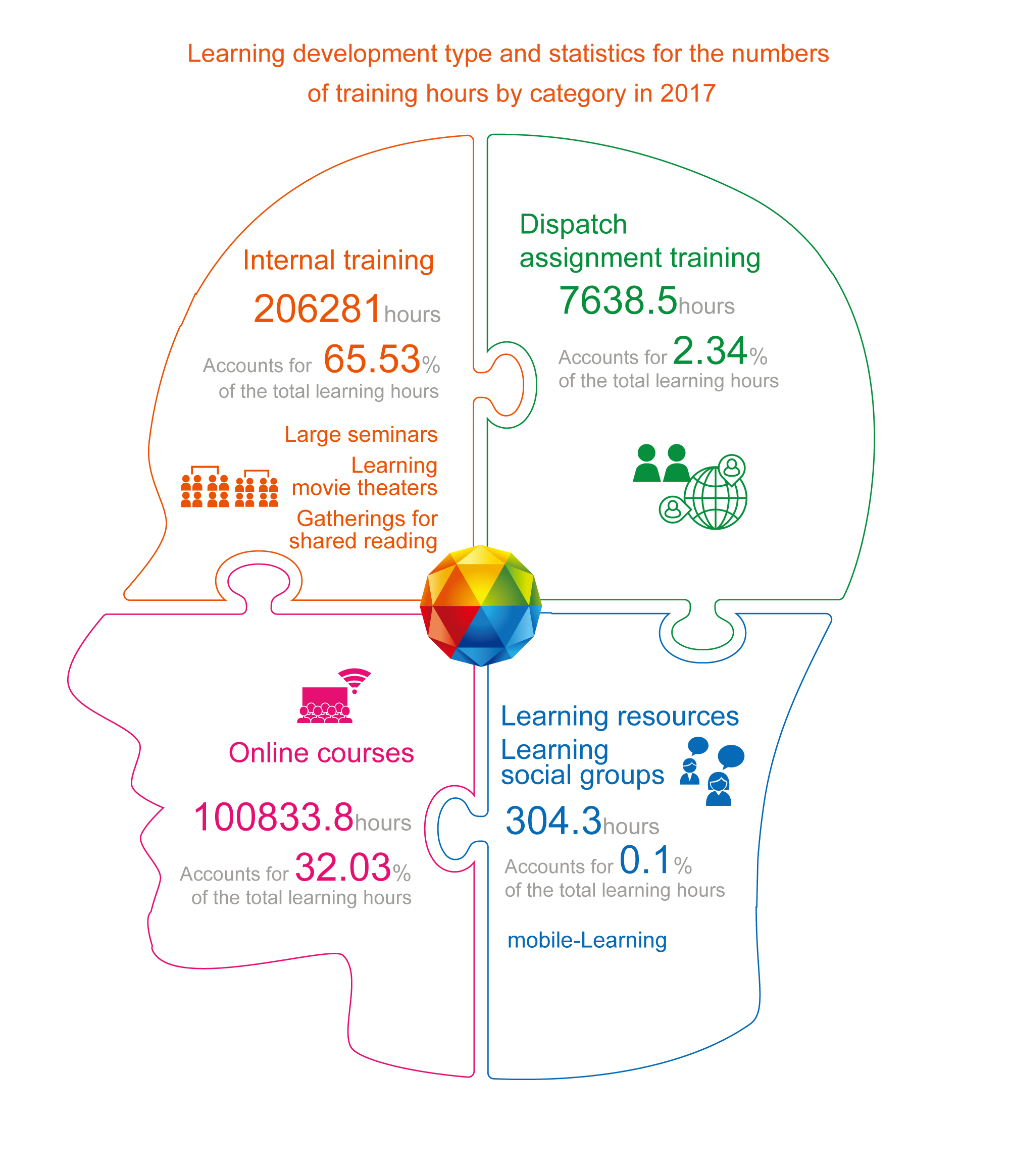 Number of training hours for TWM employees in the past three years
Item
2015
2016
2017
Male
Female
Male
Female
Male
Female
Deputy manager or higher
21.1
18.5
22.9
24.4
31.0
28.5
Below deputy manager
26.8
17.9
32.1
25.9
58.6
56.5
Average by gender
26.1
18.0
31
25.8
56.1
55.1
Average training hours per employee
22.6
28.8
55.6
Note: Average training hours per employee in 2017: Taiwan Fixed Network: 28.0; Taiwan Teleservices & Technologies: 18.5; Taiwan Digital Service: 15.7; TWM Broadband: 7.3.
Training and development categories and results in 2017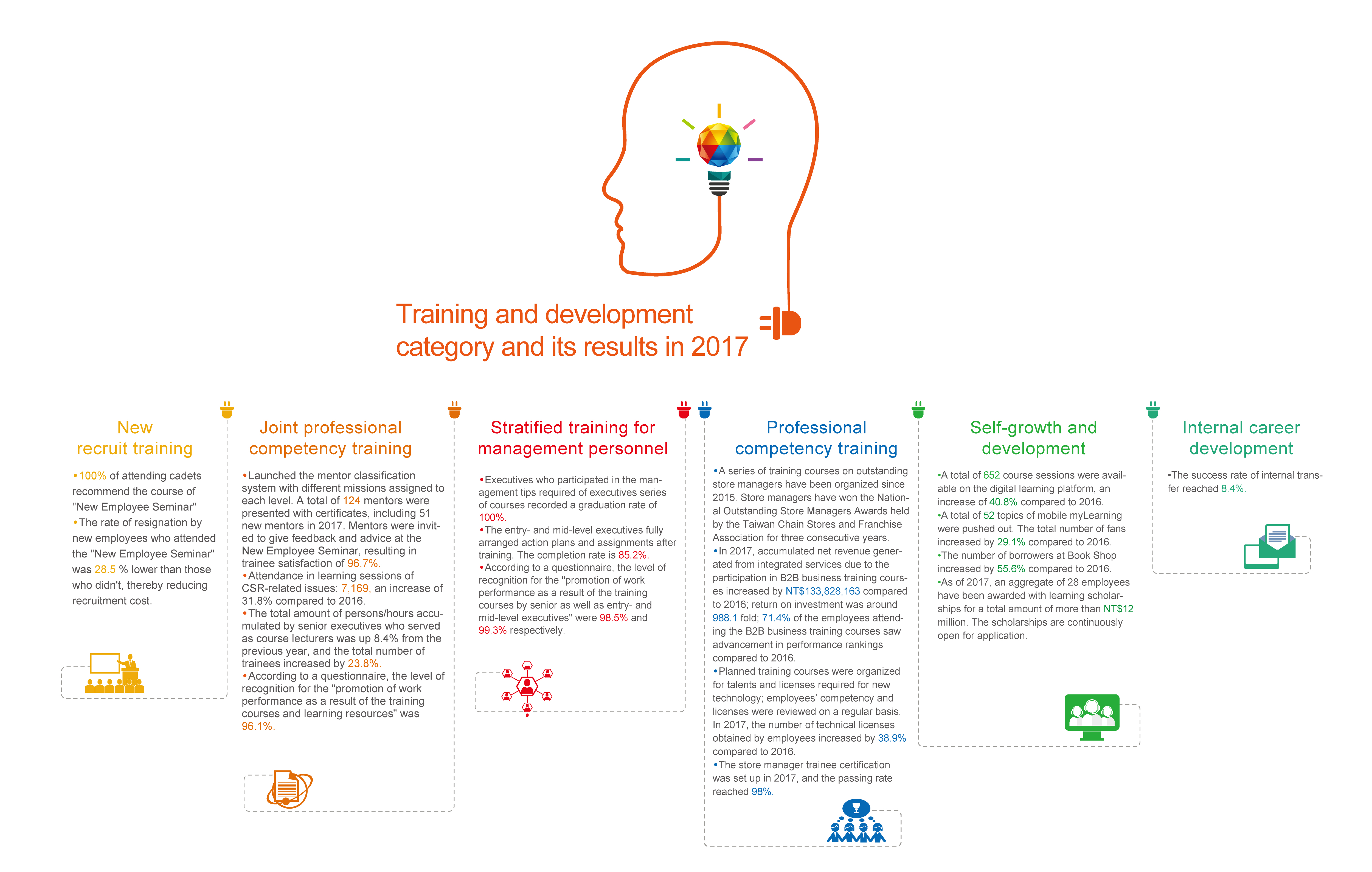 Ensuring the training quality and actual learning

To ensure the effects and quality of training courses, our training system incorporates "needs analysis" and "in-depth planning" before a program begins, and follows up with performance assessment and review after a program ends. In 2017, we added the course satisfaction indicators, and if training programs fail to meet their objectives, they are carefully reviewed and corrective actions are taken immediately.
To keep abreast of changes in industry, the development of technical competencies has been the focus of our long-term plan, which includes.
Supervisors assess employees' professional capabilities and certificates regularly.
To keep our competitiveness, we formulate technical skills and certifications needed in congruence with emerging technologies to provide appropriate professional training to employees and certify their skill development.
In 2017, employees who had passed certification exhibited around NTD 110,000,000 revenue contributions.
Develop and retain talent to build up a positive cycle for the Company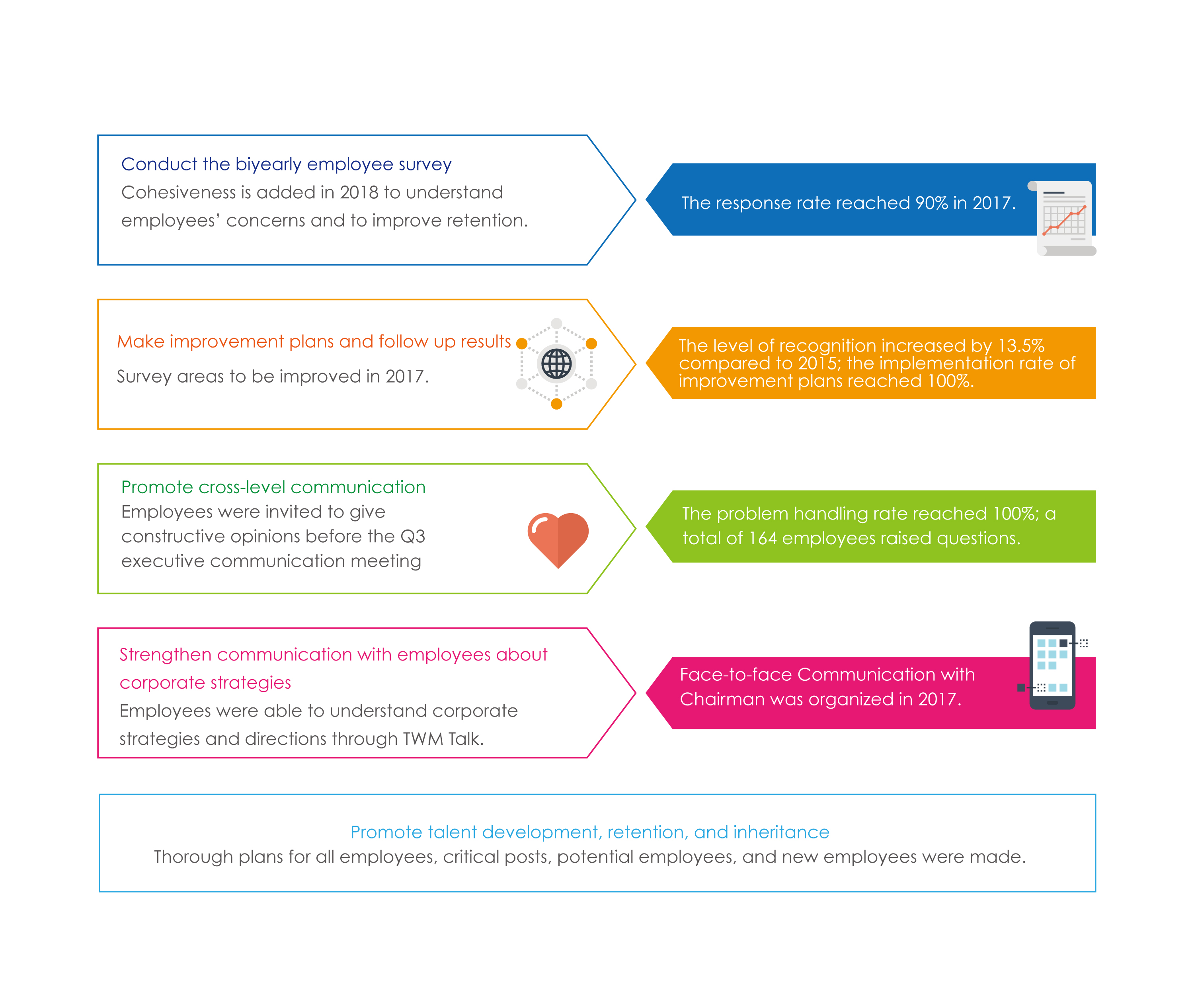 Talent management: Key positions and managers who show potential were identified as the basis for future cultivation and assistance in personal development. Hi-po employees have a tailor-made training and development plan (IDP, Individual Development Plan), which is implemented and reviewed quarterly. In 2017, all hi-po employees had developed their IDPs, the complete rate of those talents' IDP was 100%, and 21 talents had already been appointed to serve key positions.
Internal know-how sharing: We invited not only employees but also top executives to be lecturers on important issues such as industry trends, markets, proper attitudes in workplaces, etc..
New employees Care Programs: Through the implementation of orientation, questionnaires, dedicated counselors, social media, manuals, seminars, etc., we enabled new employees quickly adapt to the new environment and become more productive.
We have moved our focus from lagging indicators to leading ones: According to employees' survey results, we have formulated follow-up action plans and tracked the effects of these actions taken to increase employee loyalty and retention rate.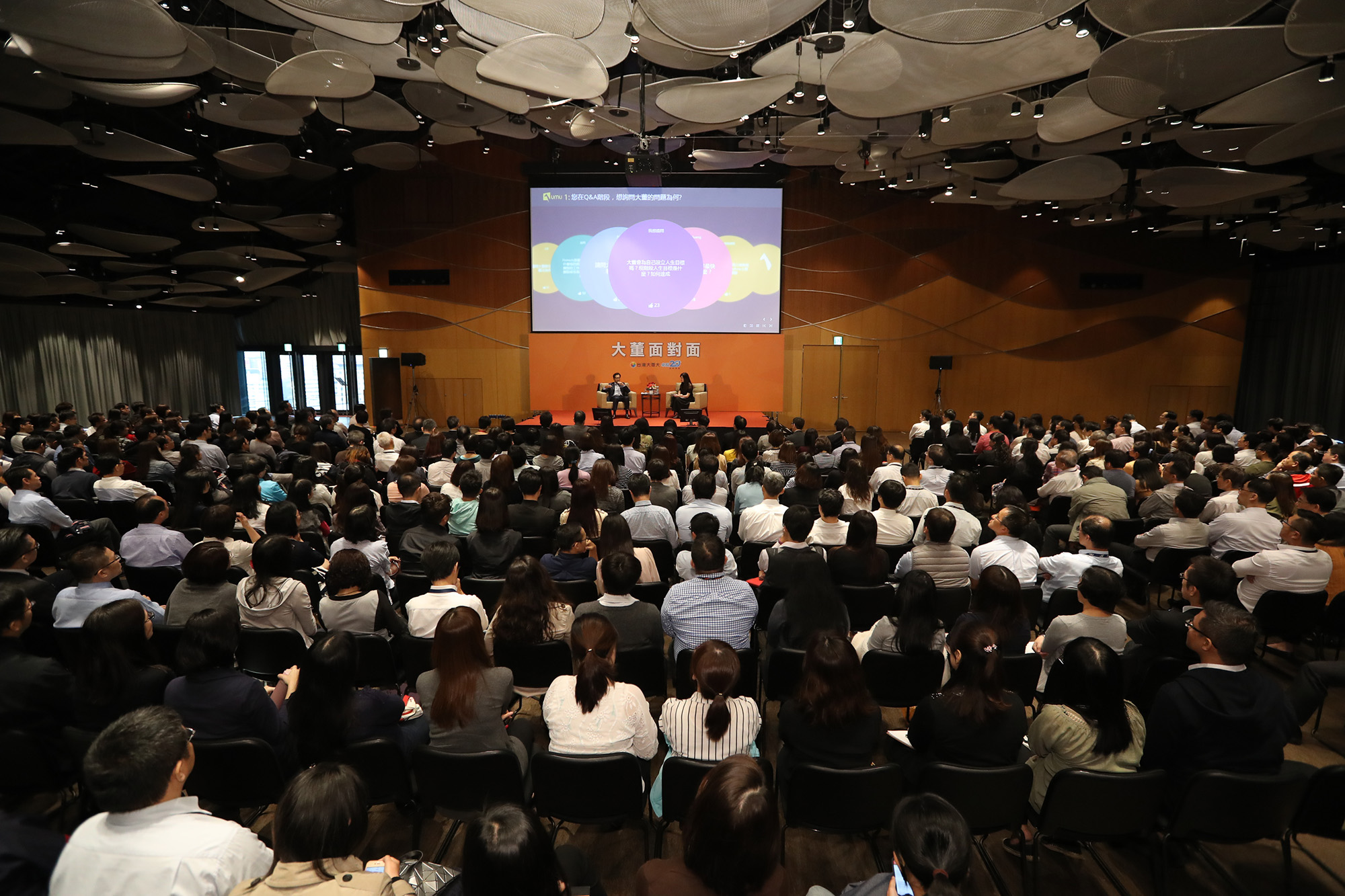 Performance management and career development

TWM continues to encourage employee's involvement in career management, to raise awareness and promote a proactive attitude in individuals. In 2017, TWM launched online career development survey, and employees can express their career development objectives.
We conduct performance evaluations for all employees on a regular basis. At year-end, employee's supervisors, peers, and subordinates can give feedback to the employee through multifaceted appraisal system. The objective of this practice is to help each individual understand his or her strengths and weaknesses, which become the basis of his or her personal development. We also hope that this approach will help employees learn how to work with others in an efficient manner and to improve performance as a team. Based on the employee's performance, feedback gained from multifaceted appraisal system and career plan, supervisors discuss with employee personally, give feedback, and suggest the competencies needed to be developed for the employee.
After the grades of performance evaluation have been finalized, supervisors will officially notify their subordinates of the results. The degree of communicative effectiveness is also examined by conducting a survey of all employees to determine if supervisors have clearly communicated the results of the appraisals to the employees and explained the matters that require improvements.
Employees are given effective assistance on self-development by getting the input from supervisors, peers, and subordinates. Employees will collaborate with supervisors to create their own "Optimal Course Package", which becomes their Individual development plan for the year. This helps employees acquire the knowledge and skills they need at work or for their next role in an organized and systematic manner. Furthermore, this gives employees a better understanding of their personal career, help them prepare for future developments, and fulfill the goal of enhancing performance and development skills.
Apart from a tailored individual development program, we offer employees a wide variety of career development opportunities. TWM and its subsidiaries' job vacancies are all posted on intranet and employees can apply through the internal recruiting process for job transfer. The Company respects employee transfer decisions in principle. Encourage employees to take initiative to plan and arrange their own career path, which accelerates internal talent mobility simultaneously.