Green Initiatives
Response green power policy:
TWM joined the Green Power Trails Scheme which held by Bureau of Energy, Ministry of Economic Affairs in 2015. We have been proud of to be the first telecommunication company to purchase 1,000KWH of green power, and also made other telecom partner to join the scheme. Moreover, we planned for establish eight green power generation facilities, which generated from solar and wind power. These renewable energy equipment of a total capacity of 28kw.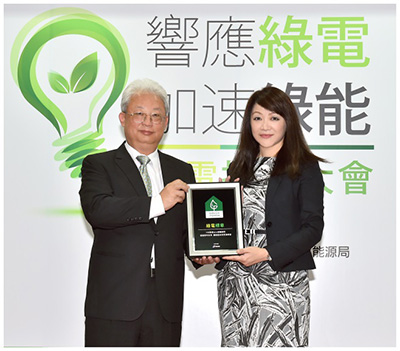 Launch green initiative:
TWM promoted the " buy a moblie phone to support green energy" event in 2015. We donated a green energy fund to support the government's green energy program and implement renewable energy base stations, through mobile or tablet products sales. TWM invite our value chain such as HTC, Samsung, Panasonic, etc., and also its customers to join in this event to provide greener and cleaner communication services. We invite the sweet heart tennis players, Yung-Jan Chan and Hao-ching Chan as the event endorsers. This event not only made advertising film to promote through the internet and TV media, but also advertised in more than 900 myfone stores in Taiwan.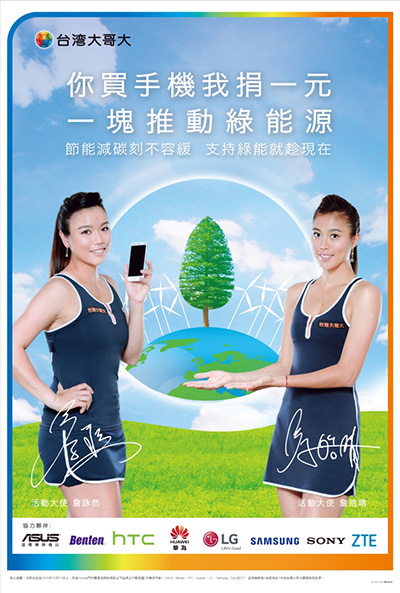 Climate Change Research:
Since the end of 2015, TWM collaborate with National Taipei University of Technology (NTUT) to research the carbon footprint during whole lifecycle of telecommunication service and establish a standardized Product Category Rules (PCR). Expect to find a chance to improve our operation model and mitigate the impact of climate change.
CDP's Commit to Action:
In Des. 2015, TWM was the first telecommunication company in Taiwan to joined this initiative. We supported has two commitment as the following.